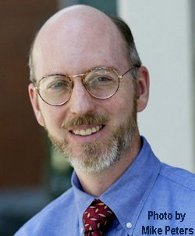 Jeff Toney
Dean of the College of Natural, Applied and Health Sciences at Kean University
Dr. Toney's career has spanned both the pharmaceutical industry and academia. His academic training is in Chemistry (B.S., University of Virginia; M.S. and Ph.D., Northwestern University) and included research experience as a postdoctoral fellow in Molecular Biology (Dana Farber Cancer Institute, Harvard Medical School) and in Chemical Biology (Massachusetts Institute of Technology).
While at UVA, Dr. Toney conducted research with James Demas, which resulted in a publication (Toney, J.H., Demas, J.N. "Low frequency computerized lock-in amplifier", Rev. Sci. Inst., 53: 1082-1085 (1982)).
His current scholarship is focused on drug discovery using an interdisciplinary approach. As a Senior Research Fellow at Merck Research Laboratories, he studied a variety of therapeutic targets for which high throughput biochemical assays were developed. He has held the Herman and Margaret Sokol Professorship in Chemistry at Montclair State University and served as Department Chairperson of Chemistry and Biochemistry. During this time, he developed a new graduate course, "Biomolecular Assay Development" that emphasizes teaching of the drug development process, including laboratory and in silico molecular modeling techniques. He is a member of the Editorial Board of Assay and Drug Development Technologies and is a Section Editor of Current Opinion in Investigational Drugs. He has served ten times as a member of the review panel, "Assay Development for High Throughput Molecular Screening" (R03, R21) of the National Institutes of Health, Molecular Libraries and Imaging Initiative. He has published 51 peer reviewed articles and holds six U.S. patents. Dr. Toney joined Kean University in 2008 as Dean of the College of Natural, Applied and Health Sciences. Dr. Toney is Vice President for Academic Affairs (2011- present) at Kean University.   He is currently serving as the Chief Academic Officer (since 2011) and Provost and Vice President for Academic Affairs at Kean University and is continuing interdisciplinary research in drug discovery and has been appointed as Visiting Professor at MIT in the Department of Linguistic and Philosophy for Summer 2019..