News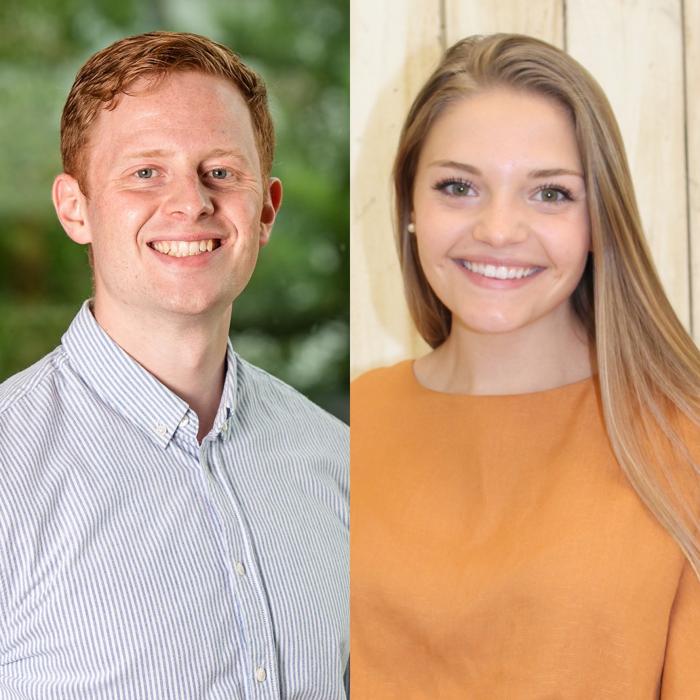 Graduate students Frederick Brøndsted and Emma Cook have each been awarded a Jefferson Scholars Foundation Dissertation Year Fellowship.
The fellowship will assign Brøndsted and Cook a mentor that will guide them through their dissertation. The students will design and teach an independent course based on their field of study, then give a public presentation of their research at the Jefferson Scholars Foundation. 
Frederik Brøndsted, a member of the Stains Lab, is from Holbæk, Denmark. He graduated from West Virginia Wesleyan College with a degree in Biochemistry in 2019. 
Brøndsted's research is in chemical biology and involves using organic chemistry to synthesize small molecules that can be used for disease detection, monitoring, and diagnosis. 
"My current research is centered around the development of probes for photoacoustic tomography - a sophisticated imaging modality that employs laser excitation to generate ultrasound signals," Brøndsted said. "This technique allows for imaging of objects located at depths of several centimeters beneath the skin, all while retaining micron-level resolution." 
The small molecule probes Brøndsted develops can be used for detecting acute myeloid leukemia.
In the future, Brøndsted hopes to work in biotechnology or the pharmaceutical industry, either here in the United States or back home in Denmark.
Emma Cook is a researcher in the Machan Lab from Concord, North Carolina. She graduated from University of North Carolina at Chapel Hill in 2019 with a B.S. in Chemistry with a minor in Medical Anthropology. 
In her research, Cook develops first-row transition metal catalysts for the electrocatalytic reduction of dioxygen, which are essential for the creation of alternative energy and industrial processes. 
"We are working to better understand specifically how earth abundant O2 reacts with iron and manganese metal centers," Cook said. 
Cook is passionate about science communication, and hopes to pursue a career in science policy in the future. 
In addition to research funds, the Jefferson Scholars Foundation will provide fellows with a living stipend and health insurance. By receiving the Dissertation Year Fellowship, Cook and Brøndsted will join a network of other talented academics. 
Congratulations to Frederik and Emma for this outstanding achievement.