News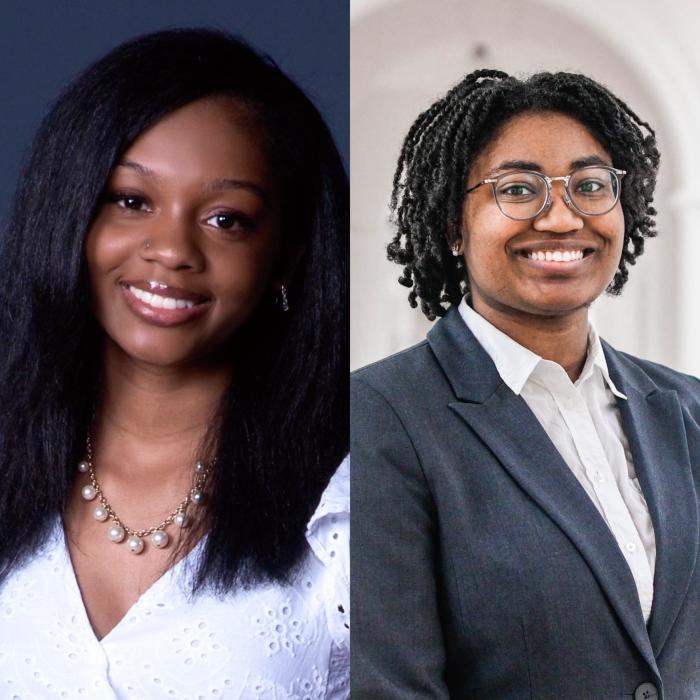 Chemistry students Alysha Johnson and Jordan Baker have received awards from the ACS Scholars Program. 
The American Chemical Society, or ACS, provides renewable scholarships to students belonging to historically underrepresented groups. They provide awards to over 300 students annually, and have awarded over 3,500 students to date. By receiving ACS Scholars Program Awards, Johnson and Baker not only receive financial support, but are also welcomed into a large community of other accomplished chemistry students from underrepresented backgrounds. 
Alysha Johnson is a first year undergraduate student from Suffolk, Virginia. Her research interest is in pharmacokinetics and pharmacodynamics, and she hopes to later pursue a career in pharmaceutical development or economic toxicology. Johnson said that she is excited to be a part of the ACS Scholars Program because it will allow her to connect with other Black chemistry students. 
"It is very hard to come by Black chemists, specifically women, especially in academic environments," Johnson said. "Most schools and institutions do not have a single Black woman researcher— so being connected to them through ACS gives me people I can share experiences with, both academically and personally."
Jordan Baker is a fourth year student who is interested in the intersection between chemistry, archaeology, and materials science. Baker said that being recognized by the ACS and connecting with other scholars in the program was encouraging.
"When I first learned about the ACS scholars program, I had just joined my first research lab and was entering a new phase of my academic career," Baker said. "My acceptance into the ACS scholars program showed me that my hardwork in chemistry is paying off and there are people rooting for underrepresented groups in science."
In the future, Baker hopes to become an analytical chemist to interpret recovered artifacts on archaeological sites. 
Both Johnson and Baker have undoubtedly bright futures ahead of them. The ACS Scholars Program will help them advance in their pursuits no matter what path they choose. Congratulations to Alysha and Jordan on this fantastic achievement.