News
By: Julissa Velasquez
UVA ChemSciComm
While COVID remains a persistent concern, current best practices include being aware of possible exposure and being cautious of the risks to your health. This challenges in-person activities across Grounds, including those led by student organizations like UVA Chemistry's L.E.A.D. (Learning through Experimentation, Awareness, and Demonstration). This chemistry graduate student group focuses on outreach in which its volunteers share their knowledge and passion for their specialized field of chemistry with a younger generation through education and chemical demonstration. These outreach efforts can take the form of visiting local elementary schools or bringing chemical demonstrations to events in the community. Before the extensive deployment of vaccines and more effective treatments, COVID precautions had shifted all of L.E.A.D.'s in-person events to a digital platform. Presenting challenges and opportunities as policies began pivoting to in-person activities in the Summer of 2022.
Summertime on Grounds at UVA can be as lively as the Fall and Spring semesters but with expanded opportunities for local chemistry enthusiasts. These summer opportunities are a unique experience offered to L.E.A.D.'s target audience, young adult students in surrounding communities, to share in the university spaces and classrooms on Grounds. In addition, the young scientists engage one-on-one with graduate students who conduct their research at UVA. These camps provide interactive education to the participants and aim to inspire a passion for science.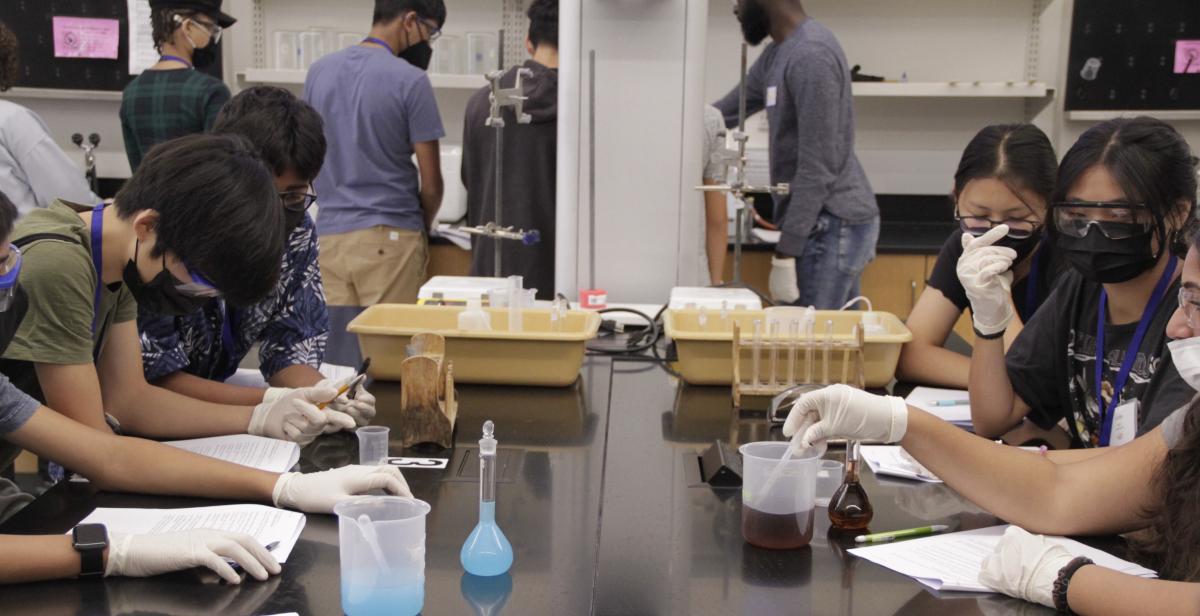 Exploring Engineering is a summer day camp that gives local seventh and eighth-grade students the opportunity to have an on-grounds experience to participate in educational S.T.E.A.M activities (science, technology, engineering, art, and mathematics). Exploring Engineering is sponsored by the UVA School of Engineering and Applied Science and the Public Education Foundation of Charlottesville-Albemarle. This summer, L.E.A.D. conducted a chemical demonstration show for nearly 40 camp participants. The demo show included experiments like the Fire Tornado, which explained the physics of atmospheric pressure and winds contributing to the spreading of wildfires. Other popular demonstrations include Elephants Toothpaste which displays how catalysts, like Potassium Iodide, can increase the reaction rate for hydrogen peroxide degrading to water and oxygen gas.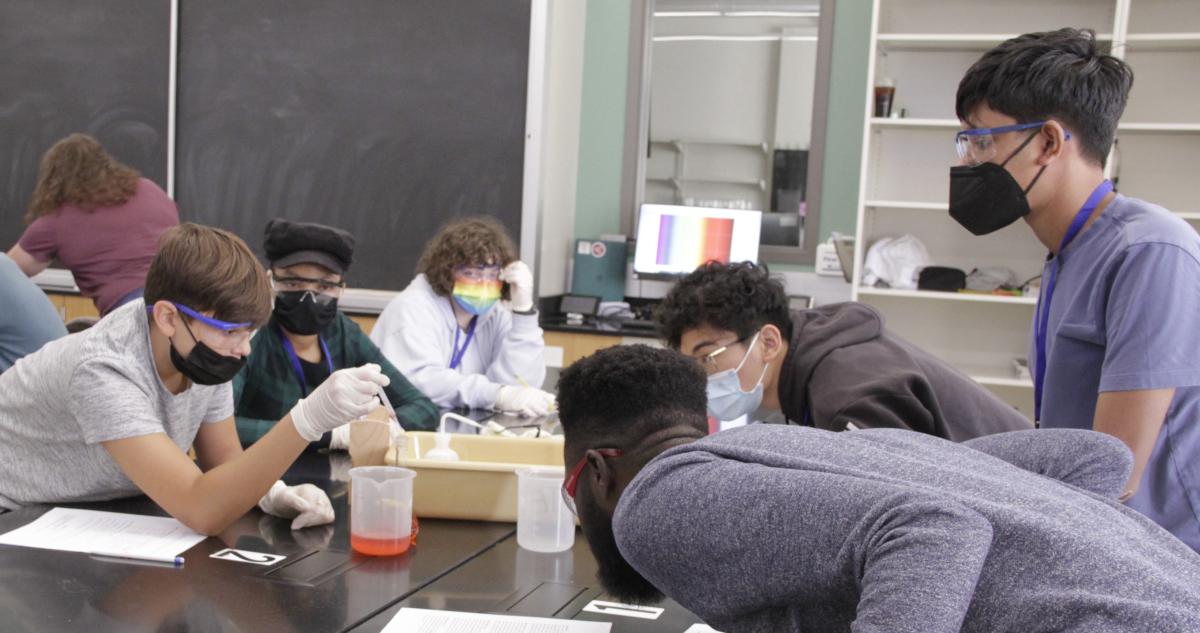 A more robust option for the rising ninth and tenth-grade students across the state of Virginia is the Building Leaders for Advancing Science and Technology Camp or BLAST! This asleep-away camp offered 77 students the opportunity to stay on Grounds in dorms in the Summer of 2022. Students attended a talk by former astronauts and Professor Emeritus Kathy Thornton from UVA's Mechanical and Aerospace Engineering Department. Overall, BLAST! focused on science-related workshops provided by various campus departments, including Chemistry, Biology, Physics, Astronomy, and Mechanical and Aerospace Engineering. This camp, locally organized by Dr. Ed Murphy in UVA's Department of Astronomy, is one of three partner camps provided by the Virginia Space Grant Consortium, with Old Dominion University, the University of Virginia, Virginia Tech, and the Commonwealth of Virginia contributing. L.E.A.D. presented a demonstration show and a hands-on experiment using UV-Visible Spectroscopy to explore light and color, incorporating resources from the University's General Chemistry laboratories.


While more prominent organizations support these summer camps, smaller groups like L.E.A.D usually rely on fundraising to supply events, limiting outreach. However, as the fall semester begins, L.E.A.D., in collaboration with UVA Chemistry's Science Communication (Chem SciComm) Program, secured a $5,500 grant via the UVA Division for Diversity, Equity, and Inclusion (DEI). Dr. Charles Machan, Associate Professor in UVA's Department of Chemistry, is the supporting mentor to both graduate programs. This new DEI collaboration will allow L.E.A.D. and ChemSciComm to expand on their mutual objectives and outreach via experimental demonstrations by creating content for a broader audience via the social media app TikTok. This project is an exciting new step for both groups, pushing their efforts into a new combined learning environment that includes both digital and hands-on learning.