News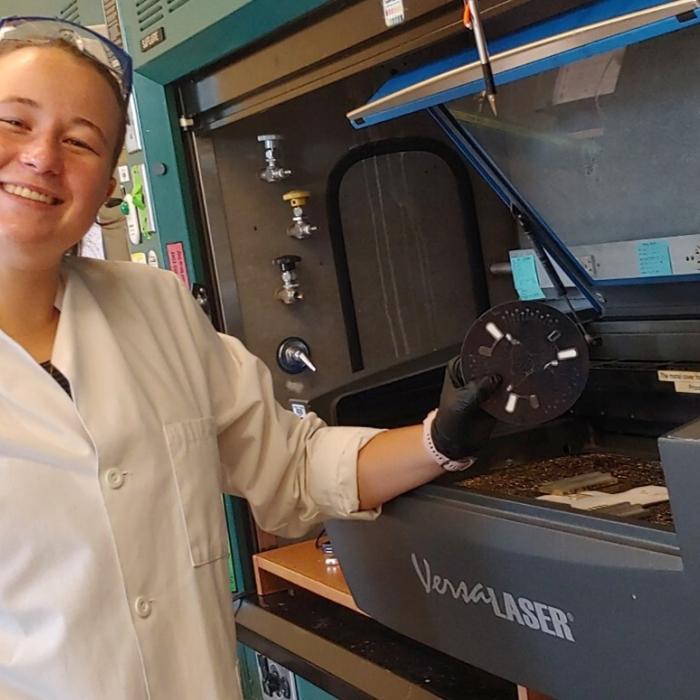 Getting to Know UVA Chemistry's Undergraduate Researchers – Part 1
By Amelia Reid, UVA ChemSciComm
With over 250 declared majors, UVA's Department of Chemistry has an incredibly active undergraduate research program. These students find a way to incorporate this into their busy schedules for an experience that many would describe as very rewarding. This interview with undergraduate researchers in our department is the first in a two-part series. These three students are all involved in bioanalytical chemistry projects. Even with different majors and areas of interest, they have all found projects that excite them and have been paired with mentors they acknowledge in contributing to their individual success. Read their answers to the questions below to see why they believe research has set them up for ongoing success and advice they have for future students.
What is your year, major, lab, and plans after graduation?

Bond Sittipongpittaya: I am a 4th year pursuing a B.S. in Chemistry with a specialization in Biochemistry. I am doing research in the Pompano lab and I plan to pursue chemical biology research in graduate school.
Nicola Lawless: I am a fourth-year undergraduate, double majoring in Biology and Cognitive Science. I work in Dr. Lander's lab, with PhD candidate Killian O'Connell. My graduation plans include applying for the Bioscience Enterprise Master's program at Cambridge University and seeking out employment in the healthcare consulting and pharmaceutical sector.
Erica Kem: I'm a third-year undergraduate student majoring in Global Public Health. I'm in the Pompano Lab and after graduating plan to take a gap year, then go to medical school.
Why did you choose the research group you are a part of?

Bond: I was interested in doing immunology research and reached out to another professor about labs doing immunology research that were open to undergraduate students. He recommended several labs, and I found the Pompano lab's work with ex vivo lymph node slices to be very interesting. In addition, this lab is also primarily affiliated with the Chemistry department and frequently uses biochemical techniques in research, so I felt like I can get a good training experience here.
Nicola: I was interested in keeping up with my background in chemistry, having chosen Biology and Cognitive science as my areas of focus in my classes. I was excited at the prospect of working with and designing microfluidic devices on projects for illicit drug detection. Everyone in the lab was also incredibly welcoming and it seemed like a great team to be a part of.
Erica: I applied to join this research group through the USOAR program my first year here in 2019. I chose this research group because it involves researching the immune system. Because I have had severe food allergies my whole life, I always wanted to understand more about the immune system and how it works. By participating in this research, I am able to propel further into my field of interest, which enables me to learn more.
What projects have you worked on while participating in undergraduate research?

Bond: I have worked on two projects so far but will soon be working on a third project. All of the projects are part of a larger, overarching effort to design novel cytokine assay in live tissue using a dual-affinity probe. The probe will bind to T cell's surface protein on one end and bind cytokine on the other, tethering the cytokine as close to its secretor cell as possible to get the highest spatial resolution of cytokine release. My first project was to develop a computational model to predict the spatial resolution of the assay. My partner and I worked to build a model that uses partial differential equations and agent-based modeling to model diffusion of cytokines away from a secreting cell and their subsequent capture by the probe on the surrounding cells. When the computational model was able to predict the spatial resolution and other important parameters such as cytokine concentration gradient around the secretor cell, we moved to developing an experimental model that will verify those predictions. We designed a system where fluorescently labeled cytokine would be delivered via microfluidics into a hydrogel embedded with beads conjugated to fluorescently labeled antibody against cytokine. The fluorophores on the cytokine and antibody are FRET pairs, which would allow us to monitor cytokine capture in real time. We plan to test the model soon. At the same time, we will also be working on the third project, which is testing the dual-affinity probe in tissue slices. However, since the probe is currently in development, we will be performing pilot tests using a dual-affinity antibody as a proof of concept.
Nicola: During my time in Dr. Lander's lab, I have contributed to the development of a spray-cast superhydrophobic layer that was critical to the operation of a novel microfluidic device intended for point-of-care diagnosis of Chlamydia trachomatis. I have also worked to enable the storage of highly corrosive reagents needed for the detection of trace heavy metals, illicit drugs, and neurotransmitter metabolites by improving the fabrication method for reagent casings on a centrifugal microdevice. I am also currently assisting on advancing the world-to-chip interface for a third microdevice that will improve the accuracy of presumptive screening for illicit drugs by validating the performance of the 3D printed sample preparation cartridge.
Erica: Utilizing gravity-driven fluid flow to culture ex vivo lymph node slices long-term

For the first two years of undergrad, I worked on limiting cell egress (cells exiting) from lymph node slices in order to study long-term small molecule effects on cellular function. To do so, I used cell culture transwell inserts, and lymph node slices embedded in varying concentrations of agarose to monitor the rate of complete media flowing through it over time.
Metabolic changes in the lymph node after vaccination
T cells undergo a rapid change in metabolic activity when they become activated and participate in an immune response. These cells shift from a quiescent (inactive) to an active state that has growth and proliferation (cell division). When activated/stimulated, T cells uptake large amounts of glucose. I measure this change in glucose uptake by using a glucose probe, 2-NBDG. Using this probe, I will measure the changes of glucose uptake in the lymph node as a readout of changes in metabolism.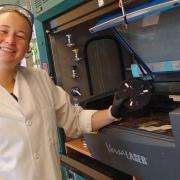 Fourth-year Biology and Cognitive Science double major, Nicola Lawless, with device used in her research as part of the Landers Lab.
How would you explain what kind of activities have been involved in with your research?

Bond: When I was working on the computational model, most of my time was spent coding and performing data analysis, with some training on protocols that are routine in the lab such as lymph node harvesting, preparing tissue slices, and fluorescent imaging. Since I am now working on an experimental model, I am now doing experiments to optimize protein conjugation to beads and fluorophores and imaging FRET pair interactions.
Nicola: My current work involves regular operation of the laser cutter, Rosin Press, and the lab's self-made Prtzal system. I currently spend a lot of time on centrifugal microdevice and reagent casing fabrication, to run reactions on-disc. Upon completion of an experiment, I conduct image analysis of the chromogenic reactions and compile my data in excel, then discuss those results with my graduate student supervisor. I have also spent some time writing SOPs after optimizing experimental protocols, and training other undergraduate students in. More recently I have been running experiments to demonstrate long term storage of corrosive reagents on disc and evaluating solvent compatibility for illicit drug detection on-disc.
Erica: I've been doing experiments utilizing flow cytometry and microscopy. I also perform data analysis using software such as ImageJ and Prism. I usually present my data at subgroup and group meetings with the lab to get feedback and helpful tips.
Has either your PI or a graduate student/postdoc (or both!) had an impact on you as a mentor? How so?

Bond: When I joined the lab, the project had just lost the leadership of a graduate student. Because of this, my PI, Dr. Pompano, worked with me directly and helped guide the project by setting goals for the week and giving feedback about the functionality of the model (e.g. what parameters should we be thinking about, how should the data be presented to be useful, how does our data answer the overarching question?) Through this, I have learned a lot about how to manage a research project and how to approach a research question.
Nicola: I am very grateful for Dr. Lander's for taking me on in the lab as a first year, and I have been lucky enough to carry out research with his team during my entire education at UVA. Anchi Tsuei was an incredible mentor who showed me the ropes when I began conducting experiments in the lab. Killian O'Connell has been an amazing mentor and friend for the last three years and I am beyond excited for her to defend at the end of this year. Killian has been crucial in my training and allowing me to become an independent researcher, capable of designing my own experiments and forming solutions to unique problems. Killian taught me pretty much everything I know whilst also allowing me to think for myself and contribute my own ideas to the projects we have worked on.
Erica: My graduate student mentor, Alex Ball, has had a positive impact on me as a mentor. He has always been, and continues to be, supportive and helpful. I really appreciate how he takes the time to walk me through new concepts and topics in research and help me understand them. My PI, Dr. Rebecca Pompano, has been consistently helpful to me. She's a very understanding mentor and always encourages me with my research and goals.
How do you believe undergraduate research is preparing you for your career after UVA?

Bond: I believe that the critical thinking skills I have developed through doing research will help me form my own research questions in graduate school. Aside from critical thinking skills, I have also found that perseverance and patience is very important in research since experiments won't always work as expected. I think that these qualities will be very important in graduate school as well.
Nicola: I hope to take the technical skills I have learned in the lab to better inform my future career within pharmaceuticals and drug development. Having hands-on experience will improve my understanding of the experimental work that goes into fabricating these drugs and designing experiments has improved my ability to think critically about how to solve complex problems. Working on projects spanning months and years at a time has also prepared for real-world investment in a given project with short and long-term goals for completion.
Erica: I want to pursue a career as an allergist. The application of cell biology and immunology that I learn in the lab provides a solid basis of knowledge for me to utilize in the future.
What advice do you have for someone wanting to get involved with undergraduate research?

Bond: I think the most important thing is to reach out to professors and actually get to know their work. This helped me see if I really wanted to work in a specific lab. I found that professors are happy to talk about their work with students who are interested, so don't be afraid to reach out and ask if you could talk to them about what they do.
Nicola: Do it! I was definitely apprehensive starting in the lab, and it is a very different experience from a normal classroom that does not require as much hands-on work and innovative thinking as experimental work does. The best advice I can give is ask lots of questions, don't be afraid to make mistakes, and enjoy it!
Erica: My advice is to find a research lab that lines up with your interests. Also, it is very rewarding to find an environment of supportive lab mates. Research is a big time commitment, therefore being on top of time management is key.