Ellen Howerton grew up in Fairfax, Virginia and graduated from Thomas Jefferson High School for Science and Technology.  She will graduate from UVa with a Bachelor of Science in Chemistry with a biochemistry specialization.
Ellen joined the Bushweller lab group in the Molecular Physiology and Biological Physics department in January, 2015.  For her distinguished major, she focused on the Ets-domain family of transcription factors, which are deregulated in multiple cancers.  Many Ets-domain proteins exhibit autoinhibition, a phenomenon that occurs when a separate portion of a protein inhibits the function of another domain.  As the autoinhibitory domain is likely unique between Ets family members, it provides a promising target for therapeutics.
Outside of her studies, Ellen is a violinist and an active member of Radio Music Society, a student-run group that writes and performs string quartet covers of popular songs.  She is also a Soprano 1 with the Virginia Women's Chorus and a member of the Washington Literary Society and Debating Union.  After graduation, Ellen will be working at the National Human Genome Research Institute at the NIH and later hopes to pursue graduate study in Public Health.
Image: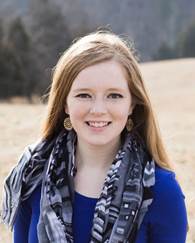 Degree:
Bachelors of Science in Chemistry with Specialization in Biochemistry