Andrew was born in Silver Spring, MD but attended Oakton High School in Vienna, VA.  He will be graduating from UVA with a Bachelors of Science in Chemistry.  Since January 2012, Andrew has worked in the research group of Dr. W. Dean Harman.
For the majority of his time in the Harman group, Andrew's project has been to separate the two enantiomers of a chiral tungsten dearomatization core.  To do so, a tartaric acid derivative was first used to create two diastereomeric salts.  From there, the salts were separated via a finely tuned precipitation reaction and then returned to their original state by removing the asymmetric anion with a base.  This research presents a novel approach for the enantio enrichment of chiral organometallic complexes.  Andrew is in the process of submitting a first author publication of this research and hopes to have it published before he graduates.
Outside of academics, Andrew is a dedicated fan of UVA basketball and religiously attends all home games.  After graduation, Andrew will be pursuing a Ph.D in inorganic chemistry.
Image: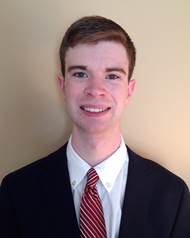 Degree:
Bachelors of Science in Chemistry